The avian population in the park is also very healthy. During late summer and in the monsoon months, it is possible to see large numbers of peacocks with their tail feathers fanned out and doing their famous shimmering "dance". Some of the bird species visible in the park are Peafowl, Red Jungle Fowl, Spur Fowls, White Breasted Kingfishers, Golden Backed Woodpeckers, Great Indian Horned Owls, Quails, Partridges, Sangrouse, Tree Pies, Crested Serpent Eagles, Parakeets, Drongos, Sunbirds and Vultures.
BIRDS OF NORTH INDIA
Indian Union covers an area of about 3,267,500 square kilometers and stretches from north about 3,200 kms and from east to west about 3,000 kms. In the north are the snow-covered Himalayas with some of the highest peaks of the world. In the south, the triangular Deccan plateau is bounded by jungle-covered hills to the north and by the Arabian Sea and the Bay of Bengal on the other two sides. Between the Himalayas and the Deccan lies the fertile Gangetic Plain, about 1,920 kms long, with the Great Indian Desert to the west of it.
Inevitably, this vast region has a diverse climate. There is, thus, a great variation in physical and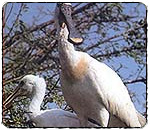 climatic conditions and consequently, in the character of vegetation. Such environmental conditions have greatly influenced the character of wildlife. Because of its geographical position the wildlife of India comprise numerous representatives of Malayan, north and west-Asian, European and African Fauna. India has a unique fauna and excels in the range and diversity of its wildlife. There are over 500 species of mammals, 2,060 species of birds. 748 species of reptiles and 30,000 species of insects. To preserve its unique wildlife, India has created 11 National Parks and 135 Sanctuaries in the country, covering a total area of 26,000 sq. km
Sariska wildlife Sanctuary is part of the Project Tiger. The Sanctuary extends over an area of 800 sq. kms, and has a wide spectrum and rich population of wildlife. A rich avifauna of more than 200 species of birds, which includes Babbler (Common, Jungle & Large Grey). Black/Red Headed Bunting. Little Brown Dove, Crested Serpent Eagle, Pale Harrier, Gray Hornbill, White Breasted Kingfisher, Small Minivet, Golden Oriole, Great Gray Shrike, Tailor Bird, Wryneck Woodpecker and many more, makes it an ideal place for birdwatching.s
Keoladeo Ghana Bird Sanctuary, better known as Bharatpur Bird Sanctuary, is considered the best bird marsh in the world. It has 29 square kms of marsh, woodland and scrub. It is also described as "one of the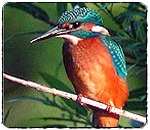 most magical places for bird watching on earth" featuring both nesting indigenous as well as migratory water birds. It is a big shallow lake divided by various roads and dykes into smaller compartments, depth nowhere exceeding 2.5 meters. More than 330 species of birds have already been identified. Local birds such as Painted Storks, Open Bill Storks, Spoonbills, Cormorants, Darters, Ibises, Moorhen, Pheasant - tailed Jacana, Purple Coot, White-breasted Waterhen, Paddy Bird, Night Heron, Comb Duck (Nukta) and Dabchick, begin nestling when the rains are about to start. Migratory birds start arriving in October which include a variety of Ducks, Geese, Raptors, Waders, Warblers and Cranes (including the Siberian Crane, of which there are about only 350 birds in the world and the Sanctuary is the wintering ground for about 52 such Cranes).
Corbett is regarded as one of the true bird parks of the world. Out of the 2,060 species and subspecies of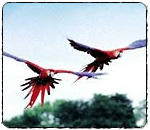 birds recorded in the Indian subcontinent, over 600 species/subspecies of birds have been recorded from Corbett at one time or another. This number is greater than the total number of bird species found in Europe and represents around one fourth of the available diversity found in India. Out of the 69 species of raptors found in India, 49 can be seen in Corbett making it a striking element of the local avifauna. The reserve, which covers 520 sq. kms. is not less than a paradise for bird-watchers. European bird-watchers are some of the keenest visitors to the reserve during winters when the bird diversity is at its peak.
Birds which can be spotted at the banks of River Ramganga on the outskirts of Corbett Park include Brown Fish Owl, Himalayan Kingfisher, Brown Dipper and Plumbeous/White-Capped Redstarts. One can also see Little/Staty backed Forktails and Mountain/Rufousbellied Hawk-Eagles here. Inside Corbett Park, Blue Whistling Thrush and Red Jungle Fowl are immediate possibilities. But with some efforts one can spot Oriental White-eye, Jungle Owlet, Alexandrine Parakeet, Himalayan Swiftlet, Lesser Fish-Eagle or even Great Thick-knee, Stork-billed Kingfisher and many more. Mammals include Tiger, Indian Elephant, Chital, Sambhar, Muntjack (Barking Deer), Hog Deer and Common Langur. A trip to these magnificent Sanctuaries will also take you through Jaipur (Pink City) and Agra (City of Taj) which will add the experience of Indian culture, heritage, history and hospitality to your memories.
TOP