Excursions from Sariska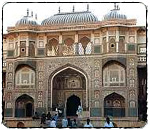 Though, there are not many tourist places around Sariska, you can certainly visit Deeg, which is famous for its gardens and palaces. Siliserh Lake is a popular picnic spot that you can visit on your to Sariska. Jai Samand Lake is another beautiful tourist place that you can head to your tour of Sariska. Jai Samand is an artificial lake constructed by Maharaja Jai Singh in 1910.
Garhwal Himalayan Expedition offer complete information on various tourist destinations and hotels in Rajasthan. Garhwal himalayan also provides online booking facility for tour packages to Rajasthan and hotel room booking in Rajasthan. To book a tour to Rajasthan or a hotel room in Rajasthan, all you have to do is just send us the email
JAIPUR - The origins of the beautiful city of Jaipur can be traced back to the eighteenth century, during the reign of Jai Singh II who ascended the Amber throne in 1699. Jaipur today, epitomizes the spirit of Rajputana. In-spite of growing into a bustling metropolis, it still retains it's character and history - Beautiful fusion of the yesteryears and modernity. Popularly known as the Pink City because of the extensive use of the locally abundant pink plastered stone, painted so in honor of the visit of the royal consort of Queen Victoria. Jaipur thrills the soul with its massive forts, magnificent palaces, exquisite temples and lush gardens.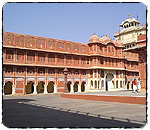 AMBER FORT PALACE - Amber is the classic romantic Rajasthani fort palace. Its construction was started by Man Singh I in 1592, and completed by his descendent Jai Singh I. It's forbidding exterior belies an inner paradise where a beautiful fusion of Mughal and Hindu styles finds it's ultimate expression.
Proceed for morning sightseeing of Jaipur covering the important palaces and monuments.
CITY PALACE - A delightful blend of Mughal and traditional Rajasthani architecture, the City Palace sprawls over one-seventh of the area in the walled city. It houses the Chandra Mahal, Shri Govind Dev Temple and the City Palace Museum.
JANTAR MANTAR - This is the largest and the best preserved of the five observatories built by Jai Singh II in different parts of the country. This observatory consisting of outsized astronomical instruments is still in use.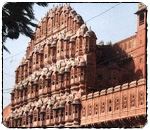 HAWA MAHAL - The ornamental facade of this "Palace of Winds" is a prominent landmark in Jaipur. Its five-storey structure of sandstone plastered pink encrusted with fine trelliswork and elaborate balconies. The palace has 953 niches and windows. Built in 1799 by Pratap Singh, the Mahal was a royal grandstand for the palace women.
TOP