We are travel agents approved by Govt. of India, Ministry of Tourism and dealing with hotel reservation, transport, sightseeing, wildlife and adventure tourism all over India and abroad.
Please note that park is open everyday from October till May end from 6 A.M. to 3:30 in the afternoon.
Sariska Tiger Reserve is well nestled in the Aravali Hills covering 800 sq km area divided into the grasslands, dry deciduous forests, sheer cliffs and rocky landscape. Whether you want to have camel safaris, go out for shopping in the surrounding places, visit medieval palaces or wildlife watching; Sariska Wildlife Sanctuary is the best place for you.

Nearly 90% of the area in the sanctuary is covered with dhok trees accommodating various wildlife species. A variety of other wild animals like the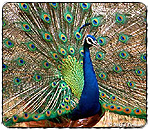 leopard, sambhar, chital, nilgai, four-horned antelope, wild boar, rhesus macaque, langur, hyena and jungle cats are found in the Sariska Tiger Reserve apart from the tiger. The Sariska National Park is home to India's largest population of peafowl, and harbours quail, sand grouse, golden- backed woodpeckers and crested serpent eagles, among other species. Also the Siliserh Lake on the edge of the park has a large number of crocodiles.
The Sariska Wildlife Sanctuary houses the ruins of medieval temples of Garh-Rajor that date back to the 10th and 11th centuries. Also a 17th century castle on a hilltop at Kankwari provides a panoramic view of flying vultures and eagles. The Sariska was declared a sanctuary in 1955 and attained the status of a National Park in 1979.

Sariska park is home to numerous carnivores including Leopard, Wild Dog, Jungle Cat, Hyena, Jackal, and Tiger. These feed on an abundance of prey species such as Sambar, Chitel, Nilgai, Chausingha, Wild Boar and Langur.
More..
.

NOTE: www.sariskanationalpark.com is not associated, affiliated with or sponsored by Rajasthan Tourism or Sariska National Park. This website is maintained by Garhwal Himalayan Expidition. Garhwal Himalayan Expidition is one of the leaders in the Indian travel and tourism industry. We are private travel company (APPROVED BY GOVT. OF INDIA MINISTRY OF TOURISM) promoting safaries, rooms reservation and other servises in india and abroad.