Duration: 6 Nights / 7 Days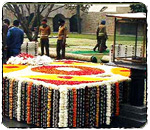 Day - 1
Arrive in Delhi. On arrival transfer to Hotel and spend overnight at the hotel.

Day - 2
Enjoy a sightseeing tour of Delhi visiting Jama Masjid, Red Fort, Ghandi Samadi, India Gate, Humayun Tomb, Bhai Temple, Qutab Minar and driving past President's House. Stay overnight at Hotel.

Day - 3
Drive to Sariska. On arrival in Sariska, check-in at a Hotel. Have an evening visit to the Park. Stay overnight at Hotel.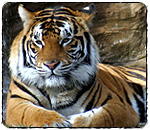 Day - 4
Early morning visit to the Park. Afternoon drive to Ranthambore; on arrival in Ranthambor check in at Hotel. Stay overnight at Hotel.

Day - 5
Morning visit to the Park. Spend afternoon at leisure. In the evening visit the Ranthambore Park. Stay overnight at Hotel.

Day - 6
Drive to Bharatpur. On arrival check-in at a Hotel. Spend evening Bird watching at Bharatpur by Cycle rickshaw or on a boat cruise. Stay overnight at Hotel.

Day - 7
Early morning Bird watching by Cycle Rickshaw or boat, thereafter drive back to Delhi. On arrival in Delhi, transfer to the airport for flight for the onwards journey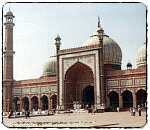 Day 01: Arriving at Delhi
On arrival to Delhi International airport, you will be greeted by our represented and by due assistance you will be transfer to the hotel. A welcome drink will be served on arrival at the hotel followed by a typical Indian cuisine at dinner. Information about the travel package on wildlife tour of Rajasthan will be given. Retreat to your luxurious rooms for next day travel.

Day 02: Delhi sightseeing of the city
After lavish breakfast get energetic for exploring the great treasures of Delhi. Start your daylong sightseeing excursion to Old Delhi (Shahajahanabad), that includes the magnificent Red Fort built by great Mughal Emperor Shah Jhan,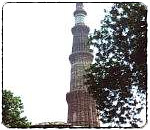 bustling Chandni Chowk the oldest shopping hub of Delhi and Jama Masjid one of the biggest mosque in India. You are bound to get mesmerized at the great splendor of Delhi City. Later after lunch drive past impressive avenues and building structures such as Rashtrapati Bhavan (President's Residence), India Gate, Quitab Minar, Birla Temple. Evening at your leisure, you can freak out in and around the busy Connaught Place and also go for shopping.
Night at hotel.

Day 03: Delhi - Sariska
After breakfast drive to Sariska Wildlife Sanctuary. The sanctuary is abode of large number of wildlife and diverse variety of birds. You can also sight a tiger by taking up a jeep safari or elephant safari.
Night stay at the Sariska wildlife resort.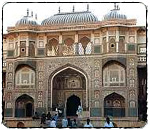 Day 04: Sariska - Jaipur
Early morning after breakfast drive to Jaipur. On arrival check in the hotel, after lunch drive out to Amber Fort, the old palace situated high on a ridge, definitely go for a elephant ride that are arranged from the foot hills of the Amber Fort till the fort gate and have the chance to wander the resplendent scenario of the fort. The fort has some magnificent courtyards and palaces that will take you to the by gone era of the Rajasthan Regime.
Overnight stay in the hotel.

Day 05: Jaipur entire day Sightseeing
In morning you will be guided to the city tour of the Pink City. Visit the impressive City Palace, Hawa Mahal and Jantar Mantar an observatory. In afternoon enjoy shopping at Clock Tower and Sardar Market famous for hand block printed textiles, enameled blue pottery, tie and dye works. Enjoy a typical Rajasthani cuisine at Rajasthani Village (Choki Dani)- your stomach will be full but there will be no end to the fabulous dishes that are served in typical Rajasthani Thalis, not to be missed.
Over night at the hotel.

Day 06: Jaipur - Ranthambore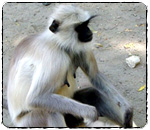 After breakfast we set out for Ranthambore National Park and check in at the hotel in Sawai Madhopur. From there you are taken on a jeep safari to spot the tigers in this park. Besides tigers the park also treasures number of other wild species like monkeys, langurs and alligators along with motley of birds.
Stay over night at the Ranthambore wildlife resort.

Day 07: Ranthambore - Bharatpur
Morning drive to Bharatpur wildlife sanctuary. The park treasures over 400 species of bird different birds have been identified in the park and you see them all over the place. Many tourists travelling to this destination have rated it as the highlight of their visit. You can also sight migratory birds the Siberian Cranes around the lakes and can shoot them in your video-cam. In evening drive to Agra City as the city is just 55km from Bharatpur.
Over night stay at the hotel

Day 08: Bharatpur - Agra
The morning holds immense fascination for you. You will be entranced at the vision of the Taj Mahal basking in the rays of the morning sun. The intricate designs and exquisite dome of this monument of love will yes, indeed cast a spell on you. Then you will be guided to the Agra Fort, another architectural marvel of the Mughals. After lunch you are right in front of the tomb of Itimad ud Daulah - the first mughal building built out completely of marble, a precursor to the Taj.
Spend your night at hotel.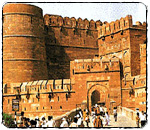 Day 09: Agra-Fatehpur Sikri
In the morning commence for the deserted city at Fatehpur Sikri- 40 km from Agra. The city was built by Emperor Akbar in 1569 and abandoned it just after 15 years due to the scarcity of water. Visit the elegant buildings - The punch Mahal, Anup Talab,Diwan-e- Khas, Tomb of the holy saint Salim Chisti,Buland Darwaza and other important palaces where one experiences not only the Architectural gaiety but also its complete amalgamation.
After Fatehpur Sikri drive straight to Delhi, stay over night at the hotel.

Day 10: Departure from Delhi
Morning after farewell breakfast you will depart to the airport, en-route you will be visiting the Chettarpur Temple one of the most renowned temples of Hindus dedicated to Goddess Durga, The temple has some most beautiful carvings and big gardens. From there you will be transfer to the airport to board a flight to your onward destination.
Day 01: Arrival at Delhi
Early morning arrive in Delhi, the capital city of India. On arrival you will be met by our company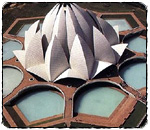 representatives who will help you transfer to the hotel and check in. Yo are freee to relax for a while. In the afternoon enjoy a sightseeing tour of Old and New Delhi In Old Delhi you will see the Red Fort, an impressive sandstone monument built in red sandstone by the Emperor Shah Jahan, the Jama Masjid - one of the largest mosques in India; enjoy a rickshaw ride in Chandni Chowk - a historic market street; also see Raj Ghat - the memorial of Mahatma Gandhi, Humayun's Tomb and the Qutab Minar.
In New Delhi you will see Rashtrapati Bhawan - the President's mansion, Parliament House, India Gate, The Bahai (Lotus) Temple and shopping arcades in New Delhi.
Return to the hotel for dinner and overnight stay.

Day 02: Delhi - Sariska
Morning drive to Sariska Tiger Reserve in Rajasthan, India. This park is famous for majestic tigers. In the afternoon, travel on a Jungle Excursion to view the numerous carnivores including Leopard, Wild Dog, Jungle Cat, Hyena, Jackal, and Tiger.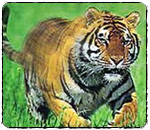 Day 03: Sariska - Jaipur
Morning Jungle drive in the wildlife sanctuary to see diverse species of flora and fauna. Later drive to Jaipur enroute visiting the Amber Fort built by Raja Man Singh, Mirza Raja Jai Singh and Sawai Jai Singh. Afternoon city tour of Jaipur to see City Palace, Jantar Mantar and observatory.

Day 04 : Jaipur - Ranthambore
Morning drive to Sawai Madhopur to see the Ranthambore Tiger Reserve. Evening enjoy a Jungle excursion to click some snaps of a Royal Bengal Tiger and the spectacular view of the majestic Aravalli ranges and a wide network of rivers that interlock the large area.

Day 05 : Ranthambore
Morning and evening Jungle excursion roaming around the forest area to observe the rich wildlife, which includes 300 trees, 50 aquatic plants, 272 birds, 12 reptiles including the Marsh Crocodile, amphibians and 30 mammals.

Day 06 : Ranthambore
Morning and evening Jungle excursion, where you can observe the large herds of Sambhar, Chital, Nilgai, Gazelle, Boars, Mongoose, Indian Hare and Monitor Lizards. Overnight stay at hotel.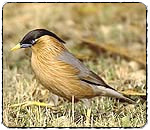 Day 07 : Ranthambore - Bharatpur
Morning jungle drive to add the real adventure to your tour to Ranthambore. Later drive on to Bharatpur. Visit the Keoladeo Ghana National Park known for its 300 indigenous bird species. Evening, a short walk to the Jungle to observe the roosting of large bird swarms.

Day 08 : Bharatpur
Take a boat ride to the nesting colonies of birds to hear the cacophony of sounds produced by the resident birds who feed and breed on the rich aquatic harvest.

Day 09 : Bharatpur - Agra
Morning spent in bird viewing including the migratory birds like Cranes, Pelicans, Geese, Ducks, Eagles, Hawks, Shanks, Stints, Wagtails, Warblers, White Ears, Flycatchers, Buntings, Larks and Pipits. Later drive on to Agra to see the Taj Mahal. Afternoon city tour covering the Agra Fort and other tourist places in Agra.

Day 10 : Agra - Khajuraho - Bandhavgarh
Morning fly to Khajuraho, famous for its temples devoted to eroticism. On arrival visit the Western Group of Temples including the temples of Kandariya Mahadeo and Chuansat Yogini. Later drive on to Bandhavgarh National Park in Madhya Pradesh. Overnight stay at the Bandhavgarh Jungle Resort.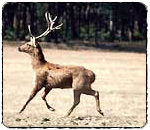 Day 11: Bandhavgarh
Morning and evening jungle excursion to explore the wildlife, flora and fauna within the national park. Overnight stay at the lodge.

Day 12 : Bandhavgarh
Morning and evening excursion to the National Park encompassed by the towering Vindhyachal ranges. Overnight at the lodge.

Day 13 : Bandhavgarh - Kanha
Morning drive on to Kanha National Park. Drive deep into this sanctuary surrounded by tall Sal trees forest. On arrival transfer to Kanha Jungle Resort for overnight.

Day 14: Kanha
Morning and evening jungle excursion, nature walks and Elephant rides in the National Park and Tiger Reserve in the Mandala district of Madhya Pradesh. Overnight stay at the lodge.

Day 15: Kanha
Morning and evening jungle excursion, nature walks and Elephant rides to observe the large herds of the rare Barasingha (Twelve Horned deer) and Swamp deer. Overnight stay at the lodge.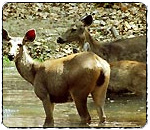 Day 16: Kanha - Nagpur
Morning Jungle excursion to penetrate the deep Sal and Bamboo forests. Afternoon drive to Nagpur, the city of oranges on the border of Madhya Pradesh and Maharashtra.

Day 17: Nagpur - Bhubaneshwar
Morning fly to Bhubaneshwar, the capital city of Orissa while attending the short excursion to Konarak Temple just a few kilometers away from the city.

Day 18: Bhubaneshwar - Kolkata
Morning fly to Calcutta/Kolkata, the capital of West Bengal. Afternoon sightseeing of Calcutta/Kolkata covering the Victoria Memorial, Kali temple, Howrah Bridge.

Day 19 : Kolkata - Guwahati - Kaziranga
Morning fly to Guwahati and drive to Kaziranga National park, famous as the only natural habitat of the Great Indian Rhinoceros.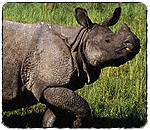 Day 20: Kaziranga
Morning and evening jungle rides, either Jeep safari or an Elephant safari or nature walks to observe the wildlife in Kaziranga National Park.

Day 21: Kaziranga
Morning and evening jungle rides, nature walks and Elephant rides within the sanctuary to closely observe the impressive Rhino.

Day 22: Kaziranga - Guwahati - Delhi
Morning, drive back to Guwahati to catch a flight to Delhi. Day is free for your independent activities like shopping, sightseeing etc.

Day 23: Delhi -Departure
The day is free for you to enjoy your leisure time. Later transfer to the International Airport to catch a flight for your onward destination, at the end of your India Wildlife Tour Package.
Top
Best time to visit - 11 nights & 12 days (October to April)
Visit : Bharatpur, Agra, Ranthambore, Sonkhaliya, Jaipur, Delhi
This tour to Rajasthan combines the world famous Bharatpur, with its huge numbers of wintering birds, with the spectacular Ranthambhor reserve, home to a completely different avifauna and Tigers! You will also have the opportunity to visit the Taj Mahal, Agra and Jaipur and have a chance to look for the rare and declining Indian Bustard.
Day 1 - Overnight flight to Delhi.

Day 2 - Arrive in Delhi and transfer to Hotel in Bharatpur for a five-night stay. En route, we will see our first common Indian birds which may include Black (Black-eared) Kite, Common and Bank Mynas, Black Drongo, Laughing Dove, Pied Bushchat, Indian Robin, Little Swift and Rose-ringed Parakeet.

Days 3-6 - Bharatpur is world famous for its wildlife, and justifiably so. It was once the preserve of the Maharajas for hunting and, ironically, this is the reason that it has survived in such pristine condition. It is possible to see over 100 bird species in a day in this 29 square kilometre reserve using cycle-rickshaw or by foot. As we arrive early in the morning, we will see hoards of Bar-headed and Greylag Geese flying in to feed alongside Sarus Cranes. If Siberian Cranes have returned, we will make a special effort to locate them. There are many walks to follow around the "Bounds" and the habitat varies from shallow lakes to flooded forest and dry savannah. Storks are particularly conspicuous and we should see Asian Openbill and Black-necked, Painted and Woolly-necked Storks, whilst other fish-eaters include Little Cormorant, Indian Shag, Oriental Darter, Black-headed Ibis and Black Bittern. Ducks are numerous and may include Lesser Whistling-duck, Comb, Ferruginous and Spot-billed Ducks, Red-crested Pochard, Ruddy Shelduck and Cotton Pygmy-goose.
Other water-dependent birds commonly found include Bronze-winged and Pheasant-tailed Jacanas, Purple Swamphen and White-breasted Waterhen. Waders are plentiful and as well as the common Palearctic migrants we may see White-tailed, Red-wattled and Yellow-wattled Lapwings, the enigmatic Indian Courser and with a great deal of luck, Sociable Lapwing.

There are also plenty of land-birds, which may include Orange-headed Ground-thrush, Greenish, Hume's, Smoky, Thick-billed and Yellow-browed Warblers, Small Minivet, Common Wood Shrike, Brahminy Starling, the virtually endemic Marshall's Iora, Bluethroat and the spectacular Siberian Rubythroat. Grey Francolins are commonly heard and are relatively easy to see but Black Francolin are much more difficult. Birds of prey are numerous and omni-present. Up to ten species of eagle include Bonelli's, Crested Serpent, Eastern Imperial, Great Spotted, Indian Spotted, Steppe and Tawny, while the most regular vulture is now Red-headed. Most species of owl and nightjar can be seen at their daytime roosts and target species include Dusky Eagle-owl, Indian Scops-owl, Brown Hawk Owl and Spotted Owlet as well as Large-tailed Nightjar.

During our stay at Bharatpur we will make a half-day visit to both the spectacular Taj Mahal and Red Fort in Agra. Nearby, on the River Yamuna, we will look for River Lapwing and Great Black-headed Gull, whilst at the fort we may see Dusky Crag-martin.

Another day we will visit Bund Barita, a reservoir which is one of the few reliable spots for Indian Skimmer in the area. The reservoir holds huge numbers of wildfowl and other waterbirds and we may also see Black-bellied, River and Whiskered Terns. At an old hunting lodge nearby we will look for Barred Buttonquail, Sulphur-bellied Warbler and Indian Chat, whilst at a nearby government house, we will look at the large colony of Indian Flying-foxes. On the way back to Bharatpur we will stop at a breeding colony of Long-billed Vultures, a very rare bird in India these days. At the end of our stay at Bharatpur we should have seen over 200 species together with a few mammals including Nilgai, Sambar and Spotted Deer and Golden Jackal.

Day 7 - We transfer to Ranthanbhor for a three-night stay at the Hotel. This is another former hunting preserve, especially for Tigers, of the Maharajas of Jaipur. We have a good chance of seeing a Tiger during our stay, much better than either Leopard or Sloth Bear. This is a spectacular reserve comprising deep ravines and steep cliffs with thorn and dry deciduous forests all overlooked by an impressive eleventh century fortress. We will make a series of morning and afternoon visits to the reserve in either canters (22-seat open trucks) or gypsies (6-seat open jeeps).

Days 8-9 - The different habitat at Ranthanbhor ensures that we will see plenty of new species. These may include Common Peafowl, Painted Spurfowl, Jungle Bushquail, Great Thick-knee, Alexandrine and Plum-headed Parakeets, Stork-billed Kingfisher, Common Hawk-cuckoo, Yellow-legged Green Pigeon, Ashy-crowned Sparrow-lark, Rufous-tailed Lark, Bay-backed Shrike, White-bellied Drongo, Large Cuckoo-shrike, Rufous Treepie, Tickell's Blue and Asian Paradise-flycatchers, Indian Roller, Indian Grey Hornbill and Greater Coucal. Birds of prey are again present in good numbers and may include Crested Honey-buzzard, White-eyed Buzzard, White-backed Vulture and Black Eagle whilst Shikra sit inconspicuously close to the tracks. We may find a roosting Brown Fish-owl here and will also make an effort to see Savannah Nightjar one evening. Nearby are some lakes and arid areas and here we may find Chestnut-bellied and Painted Sandgrouse.

Day 10- Leaving Ranthanbhor, we will transfer to Sonkhaliya to stay at Juniya for two nights.

Day 11- Today is a very special one as we will look for the rare and spectacular Indian Bustard. Other birds that can be found in the area include Stoloczka's Bushchat and White-naped Tit. It can be extremely dusty in the jeeps however but it is well worth a little discomfort for this opportunity. As we look for the Indian Bustard we may see Desert, Isabelline and Variable Wheatears and huge numbers of Greater Short-toed Larks together with the occasional Bimaculated Lark. This is also a good site for Rock Eagle-owl and in 2004 we saw no less than seven of these spectacular birds.

Day 12 - We will return to Delhi via Jaipur, birdwatching and sightseeing en route. In Delhi we will have shared accommodation available to us for a wash and change before boarding our flight.

General Information Days are warm but early mornings and late evenings can be chilly. Rain is unlikely. The pace is easy. On most days, we will take a break in the middle of the day when it is hot and bird activity is low. There are a number of health requirements and you must consult your GP in this respect. Insects are not a major problem at this time of year but you must take precautions to avoid other health risks. Accommodation is in good-standard hotels all with private facilities.
Best time to visit is between October till April.
Bird sightings depend greatly on season, timing, and patience.
TOP